Experience a furry friend's celebration of neighborhood traditions in this colorful children's book series that supports a noble cause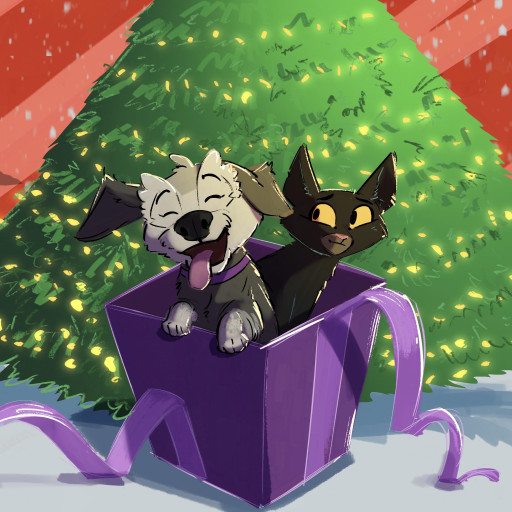 A Very Lunchie Holiday!
Lunchbox and her sister Seven pop out of a wrapped present in front of a Christmas tree. In this book, Seven goes missing and Lunchbox must find her!
FAIRFAX, Va., November 2, 2023 (Newswire.com) - Jennifer Schick, an independent author and real-life crime fighter for over 20 years, is thrilled to announce the release of "Episode 5: A Very Lunchie Holiday" from her children's book series "Lunchbox Is On The Case!" This newest installment takes Lunchbox, an adventurously clever canine character, on an exciting journey of holiday festivities and familial warmth.
This heartwarming adventure begins when Lunchbox's feline sister, Seven, goes missing, prompting Lunchbox to sniff out her whereabouts. Each neighbor's home unveils a unique celebration, teaching valuable lessons about varying holiday customs, the importance of sharing, and kindness.
Inspired by Jennifer's own adopted dog, Lunchbox, the series has earned a loyal fan base eager for every new release. This is the fifth book, following successful predecessors, such as the thrilling "The Jewel Thief." Jennifer's role as both a scribe and a crime fighter connects the series even more directly to its noble cause. Jennifer has pledged to donate 10% of all profits from the series to the Humane Society of Fairfax County, Virginia, the very place where Lunchbox was adopted.
This latest addition to the series is available at Amazon and Barnes & Noble from Nov. 15. Jennifer continues to captivate her readers, not just with imaginative tales, but also by extending support to the silent voices through channeling the proceeds towards animal welfare.
Jennifer will also be reading from her book series at select locations in the area through the holiday season. The next reading will be on Nov. 11 at 12 p.m. at the Barnes and Noble in Woodbridge, VA. You can get more information about future readings at LunchboxIsOnTheCase.com.
Join Lunchbox this holiday season as she embraces the spirit of the holidays, searches for her sister Seven, and brings readers of all ages on a joyous, heartfelt adventure!
Contact Information:
Alexander Lu-Pon
Operations Director, A-LU Enterprises
[email protected]
Elliot Peeples
Creative Director, A-Lu Enterprises
[email protected]
Original Source:
Introducing 'A Very Lunchie Holiday,' the Latest Installment in the 'Lunchbox is on the Case!' Series
The post Introducing 'A Very Lunchie Holiday,' the Latest Installment in the 'Lunchbox is on the Case!' Series first appeared on RSVTV news.
Books - RSVTV news originally published at Books - RSVTV news