Celebrates the 50th Anniversary of Their 1973 "We're An American Band" Platinum Selling Single and Album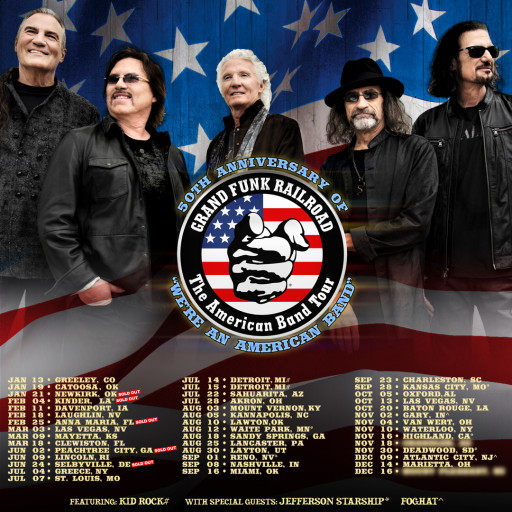 Grand Funk Railroad 'The American Band Tour' Ad Mat
Tour date poster for Grand Funk Railroad's \"The American Band Tour\"
NASHVILLE, Tenn., May 2, 2023 (Newswire.com) - Multi-platinum selling iconic group GRAND FUNK RAILROAD announced today additional tour dates to their highly anticipated upcoming 'The American Band Tour,' in honor of the 50th anniversary of their 1973 "We're An American Band" platinum-selling single and album. New dates include performances in New York, Ohio, Arizona, Kentucky, North Carolina, Oklahoma, Minnesota, Georgia, Pennsylvania, Utah, Nevada, Indiana, South Carolina, Missouri, Alabama, Louisiana, California, South Dakota, New Jersey, Michigan, and Mississippi.
One of rock's most definitive anthems, founding member Don Brewer (vocals and drums) was the soul writer and vocalist on "We're An American Band," which went all the way to #1 on the Billboard 'Hot 100' chart on Sept. 29, 1973.
"'We're An American Band' came to me when we were flying from town-to-town on our 'Phoenix Tour' in 1972," said Brewer of writing the song. "We were being sued by our former manager, Terry Knight, and he was trying to stop us from performing. The line, 'We're comin' to your town, we'll help you party it down,' came to me first, and I wrote the song around that line, taking snippets of things going on during the tour at that time - like staying up all night with Freddy King playing poker, four young chiquitas in Omaha, sweet, sweet Connie in Little Rock, and, finally, the declaration, 'We're An American Band,' because it sounds great and sings well."
As part of this year's itinerary, the legendary rock & roll powerhouse will be the "special guests" of Kid Rock for two hometown shows in Michigan at Little Caesars Arena on Friday, July 14, and Saturday, July 15. See GRAND FUNK RAILROAD's full tour itinerary below.
ABOUT GRAND FUNK RAILROAD:
Known as "The American Band," the high-energy five-piece group includes original founding members Don Brewer (vocals and drums, writer and singer of the multi-million selling hit, "We're an American Band") and bassist Mel Schacher, "The God of Thunder." Joining Don and Mel are true "All Stars." Singer Max Carl is a rock veteran from 38 Special. Max penned and sang 38's biggest hit "Second Chance" and was co-founder of California's legendary Jack Mack and the Heart Attack. Don refers to Max as "the best blue-eyed soul singer on the planet." Lead guitarist Bruce Kulick is best known for his 12 years with KISS and has credits with Michael Bolton, Meatloaf and Billy Squier. (KISS members Gene Simmons and Paul Stanley were influenced early on by Grand Funk.) Keyboardist Tim Cashion has a master's degree in music from the University of Miami. Affectionately called "Dr. Tim", his credits include stints with Bob Seger and the Silver Bullet Band and English soul man Robert Palmer.
Contact Information:
Elise Anderson
Owner, Elicity Public Relations
[email protected]
(615) 946-6055
Related Files
(GFR) Additional Tour Dates Announce - FINAL.pdf
Original Source:
Grand Funk Railroad Adds Dates to Highly Anticipated 'The American Band Tour'
The post Grand Funk Railroad Adds Dates to Highly Anticipated 'The American Band Tour' first appeared on Digital Gossips.
Entertainment - Digital Gossips originally published at Entertainment - Digital Gossips