Venues across Brisbane are opting for HeadBox's Power Host product to increase leads and exposure. The premium product provides elevated marketing and priority access to HeadBox's corporate event bookers.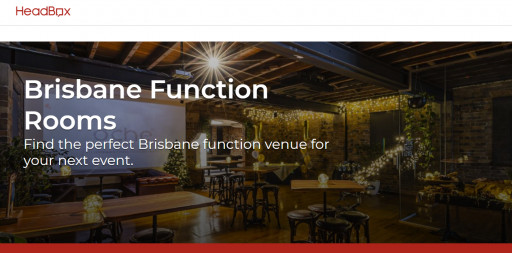 HeadBox
HeadBox
BRISBANE, Australia, April 14, 2023 (Newswire.com) - Leading event tech platform HeadBox's lead retrieval software, Power Host, offers function venues Brisbane-wide the ability to enhance the ranking of their venue to increase the frequency of relevant enquiries. In addition to the large corporate event briefs, hosts can also go after an unlimited amount of leads under $15k from a collection of qualified event briefs.
According to HeadBox, in just two months, the platform has seen more than $3.7m worth of Brisbane event briefs come through the platform and Power Host function rooms Brisbane-wide are getting in front first.
HeadBox prioritises Power Hosts and features them across paid ads, social media, website landing pages and blogs. Additionally, the HeadBox team of event planners also keep Power Hosts front of mind when venue sourcing for corporate bookers.
Corporate events are an integral part of the business world and finding the right venue is crucial to their success. For venue owners and managers, securing more corporate events can be challenging. However, with the help of HeadBox, it is possible for any function room Brisbane wide to attract and secure more corporate events.
HeadBox is an online platform that connects event planners with venue hire Brisbane-wide. With its extensive database of venues and powerful search tools, HeadBox makes it easy for event planners to find the perfect venue for their corporate event. Venues listed on HeadBox can tap into a vast network of potential clients and increase their chances of securing more corporate events in Brisbane.
One of the key features of HeadBox is its ability to showcase venues in the best possible light. By creating a detailed profile of a venue, including high-quality photos and a virtual tour, hosts can give event planners a clear idea of what the venue has to offer. This can be particularly helpful for corporate events, where the venue plays a significant role in creating the right atmosphere and impression.
To learn more or to search for function rooms hire Brisbane-wide, visit HeadBox online.
About HeadBox
HeadBox is Australia's fastest-growing event tech company, on a mission to reinvent the global events industry through technology. With a focus on building human-kind event tech, HeadBox is the easy way to plan meetings and events with confidence, connecting people with spaces to make brilliant things happen, everywhere.
Contact Information:
Headbox AU
Marketing Manager
[email protected]
Original Source:
HeadBox's Power Host Product is Providing Invaluable Leads to Venues in Brisbane
The post HeadBox's Power Host Product is Providing Invaluable Leads to Venues in Brisbane first appeared on Digital Gossips.
Entertainment - Digital Gossips originally published at Entertainment - Digital Gossips