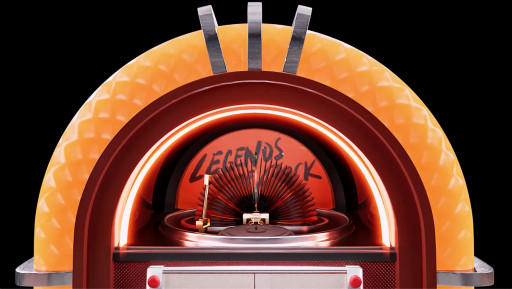 RockBox
Legends of Rock - RockBox
NEW YORK, April 17, 2023 (Newswire.com) - Legends of Rock ("LOR") is an innovative endeavor to connect legendary rock music memorabilia via Web3 technologies with music fans around the world. The collection takes unique, one-of-a-kind vintage photo slides featuring iconic rock stars such as Queen, The Sex Pistols, and The Rolling Stones and connects them to the blockchain and non-fungible token (NFT)-related technologies. This is a must-own collection for music enthusiasts and memorabilia collectors alike. Globe Entertainment ("Globe") is partnering with MADworld to bring LOR's campaign to life by building and connecting game play and digital ownership to the world of memorabilia. Last but not least, the NFTs function as a digital Certificate of Authenticity, securely issued on the blockchain, to preserve the memorabilia's value, both physically and digitally.
Each photo slide collectible is curated from Globe's vast Legends of Rock archive featuring important moments of rock music history from the 1960s to the early 1980s, showcasing bands like The Beatles, Nirvana, and Led Zeppelin.
In addition to the historic and market value of the physical, each one highlights the story behind each asset, from a photo shoot of David Bowie's first band, The Konrads, depicting the then-15-year-old Bowie to photos of a young Mick Jagger prior to his legendary career with the Stones.
"We could not have found a better partner than MADworld to introduce these unique, pivotal moments from music history to a new generation of fans," said Klaus Moeller, CEO of Globe Entertainment and Media Corp. "Most of these stills have been hidden in old filing cabinets for the better part of half a century, and MADworld is helping us breathe new life to these legends of music's past by onboarding them onto Web3."
During this phase of LOR, players must play and win the "Rockbox" game to win and claim the original, 1 of 1 NFT featuring these iconic Rock 'n Roll legends. To get started, players will first purchase MAD "Game Cards" which are loaded with Game Play credits. Even if players don't win at first, they are also rewarded with a Community Pass NFT. As the player progresses in the game, their Community Pass will be upgraded, increasing their chances of winning. To learn more about LOR, please visit: https://backstage.legendsofrock.io
About MADworld
MADworld is an innovative Web3 and digital asset ecosystem backed by Animoca Brands that collides global culture, community and creativity on the blockchain. As the Multiverse Artist Defender, MADworld provides value, security, and provenance to creators, artists, and fans alike across a number of niche communities like anime/manga, fashion, action sports, and music. MADworld seeks to elevate fans' experience, support creators' economy, and push the bounds of Web3 technology to reduce the onboarding barriers for traditional Web2 audiences into Web3. For more information, visit: https://www.madworld.io
ABOUT GLOBE
Globe Entertainment & Media Corporation (Globe) is the owner of one of the most iconic photographic archives in the world. With close to 25 million original negatives, transparencies and vintage prints, the collection includes many of the most well-known images of Pop Culture, Movies, Sports, Music and Historic Events - as well as many that have never been seen by the public. For more information, visit: https://www.globecorp.co
Contact Information:
Phil Tran
Chief Marketing Officer
[email protected]
Original Source:
Legends of Rock to Bring Iconic Collectibles to Web3
The post Legends of Rock to Bring Iconic Collectibles to Web3 first appeared on Digital Gossips.
Entertainment - Digital Gossips originally published at Entertainment - Digital Gossips