Players will be able to get a taste for the arena and see what the future holds for Devikins' highly anticipated combat system.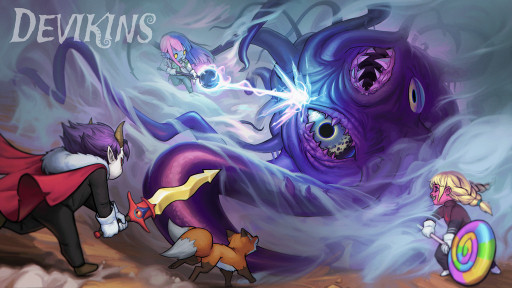 Devikins Early Access
Devikin Combat Early-Access Art
VANCOUVER, British Columbia, April 19, 2023 (Newswire.com) - MoonLabs Studios, a decentralized indie game studio created by veterans of the games industry, is releasing its Early-Access Release for Devikins, where everyone will be able to participate in exciting PvP and PvE battles. Starting on April 19, players will be able to jump in and enjoy kitting out their adult Devikin with all manner of skills, equipment, and weapons — and from there, battle against monsters or even other players.
Devikins is an ever-expanding world with a player-first design focus that takes place in a chaotic world known as the Void. Each playable character in Devikins is a Non-Fungible Token (NFT), which means that each player is the sole owner of a wholly unique playable character in both the Devikins universe and the real world. In addition to that, players can keep their collection of characters fresh and aim for the strongest, most competitive roster possible via the breeding system.
Players can expect fun, yet challenging, turn-based combat as part of this early-access release, playing off classic JRPG mechanics with Devikins' own, special twist. This ensures that everything fits the game's theme on top of allowing for deep, strategic team building.
Sergio Nunes, CEO of MoonLabs Studios, explains the importance of this Early-Access release. "We want to make sure that we are delivering the best experience possible, so players can see what we've accomplished so far — and we can use the feedback given to us by our community to improve the game even further, helping us on the development side as we finalize the 2.0 launch."
When players create an account, they earn themselves four Dummykin, four Replica Weapons, 16 pieces of Replica Equipment, and six Account-Bound Skills. So, ready to duke it out in the arena or story mode? Itching to let your Devikin battle its way to glory? Jump in now because it doesn't matter what kind of player you are — current, returning or brand-new. Download the Devikins Combat Early-Access release below and start scrapping right this second.
To download the Android version, click here. For iOS, click here.
Devikins is a free-to-play mobile game, where you can collect and sell exclusive NFTs, or by attaining the cryptocurrency DVK through MoonLabs partner: Klever — an exchange, market, and wallet platform that offers a simple and intuitive interface where anyone can trade their NFTs and DVK.
For full details on new features and events, interested players are invited to check out the Devikins website, join the official Facebook community or hop in their Discord and join the discussion surrounding this upcoming title.
Contact Information:
Felipe Consentino
Marketing Associate
[email protected]
Original Source:
MoonLabs Releases Combat Early-Access for the Free-to-Play Web3 RPG Devikins
The post MoonLabs Releases Combat Early-Access for the Free-to-Play Web3 RPG Devikins first appeared on Digital Gossips.
Entertainment - Digital Gossips originally published at Entertainment - Digital Gossips