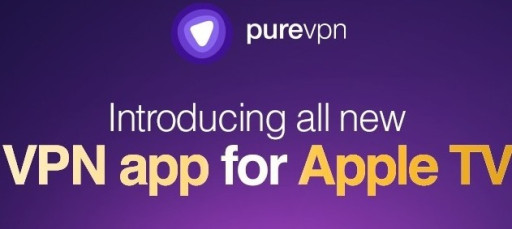 PureVpn's Apple TV APP
Your Passport to Unlimited Global Streaming
ROAD TOWN, Virgin Islands (British), September 22, 2023 (Newswire.com) - PureSquare's subsidiary, PureVPN, a frontrunner in VPN services, is spearheading innovation by becoming one of the first VPN providers to unveil its dedicated VPN app for Apple TV. This milestone sets a new standard in the digital landscape. Say goodbye to the complexities of manual VPN router setups and hello to a streamlined, user-friendly experience for Apple TV enthusiasts.
Key features of PureVPN's Apple TV VPN app
User-friendly interface: Instantly connect to the best-suited server from your home screen with a single click. Our advanced algorithm ensures optimal performance for your browsing experience.
Effortless server selection: Easily choose your desired VPN server location with a user-friendly search function. No more manual VPN router configurations, ensuring seamless browsing on all connected devices.
Favorite locations: Save frequently used cities and countries on Apple TV for swift access. No more searching every time you want to connect.
Native support: With the native support for VPN in tvOS 17, using PureVPN on your Apple TV is now a breeze. Simply download the PureVPN app from your device's app store, log in to your VPN account, and connect to a location. It's never been easier to streamline your VPN experience on an Apple TV.
Full-featured free trial: The new app offers a comprehensive free trial, allowing you to explore all its features and enjoy uninterrupted streaming.
Unleash a world of entertainment
This app allows users to effortlessly enjoy seamless streaming of their favorite movies and TV shows, making it users' favorite. The response has been overwhelming, with the app garnering an impressive 4,000+ downloads in less than 48 hours.
Priority on user security and privacy
In line with PureVPN's steadfast commitment to user protection, the Apple TV app places paramount importance on privacy and security. It achieves this through the integration of the IKEv protocol, shielding users from prying eyes by leveraging military-grade encryption. With access to over 6,500+ secure VPN servers in 70+ countries, enjoy uninterrupted streaming free from buffering and lag. Additionally, the app offers the following ongoing benefits:
Ensure maximum privacy and security during Apple TV streaming sessions.
Optimize streaming performance by countering ISP throttling on your Apple TV.
Seize the future of streaming - Download now
PureVPN Apple TV app is available for immediate download from the Apple App Store. Additionally, users can try out the app for a free trial period. Simply search for "PureVPN," download the Apple TV VPN app, and follow the intuitive setup process.
About PureVPN
With this groundbreaking launch, PureVPN continues its mission to democratize internet accessibility. The app offers an unparalleled streaming experience, emphasizing security and privacy. This development heralds a new era of borderless entertainment for Apple users globally.
PureVPN is available on a diverse range of platforms, including Windows, macOS, Android, iOS, Android TV, browser extensions, Linux, and Amazon Fire TV Stick, providing a seamless and secure browsing experience across all your devices.
Contact Information:
PureSquare Press
PR Manager
[email protected]
Original Source:
PureVPN Announces Groundbreaking VPN App Release for Apple TV
The post PureVPN Announces Groundbreaking VPN App Release for Apple TV first appeared on Digital Gossips.
Entertainment - Digital Gossips originally published at Entertainment - Digital Gossips