Readymag's collaboration with the Type Directors Club, 'The Faces Behind Typefaces,' earns Webby nomination for its insightful exploration of type design pioneers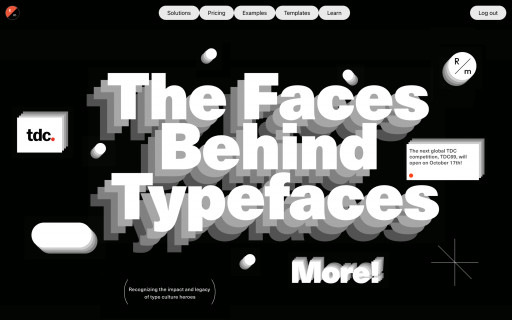 The Faces Behind Typefaces, Readymag
The Faces Behind Typefaces, cover page
NEW YORK, April 6, 2023 (Newswire.com) - 'The Faces Behind Typefaces', created by Readymag, a tool for designing digital publications without coding, has been nominated for the 27th Annual Webby Awards in the Marketing & Content Management category under Apps, dApps and Software. This digital editorial explores the legacies of pioneering typeface designers and their contributions to the creative field.
'The Faces Behind Typefaces' coincides with the 75th anniversary of the Type Directors Club, which serves a global audience of typographers, type designers, and lettering artists around the world. Designed in the form of an editorial, this project shares insightful conversations about typographers such as Paula Scher, Paul Rand, Gerard Unger, Ed Benguiat, Rubén Fontana, Emigre, and Adrian Frutiger.
Alya Datiy, Head of Brand Marketing, Readymag, "Besides building a tool for designing websites without code, we at Readymag strive to foster self-expression and recognize excellence in the practice of design. In this project, we wanted to highlight the impact of typography heroes and pioneers through the eyes and words of up-and-coming type and design professionals. Our partner for this project, the Type Directors Club, bridges the gap between type culture past and present. Together, through our editorial and design expertise, we did our best to highlight and explain this connection."
The project is now competing for both the Webby Award and the Webby People's Voice Award, which is voted on by the public from April 4 to April 20, 2023.
Readymag is a browser-based design tool that has everything you need to make visually complex websites: the most up-to-date typography, impressive animations, and complete creative freedom with no layout limitations. The tool doesn't restrict creativity, offering free composition, a customizable grid, and a blank page to start with. Readymag is the perfect solution for users torn between simple website builders and complex systems that require the help of professional developers.
Contact Information:
Alisa Kusti
Communications Manager
[email protected]
Original Source:
Readymag's Digital Editorial Nominated for Webby Awards
The post Readymag's Digital Editorial Nominated for Webby Awards first appeared on Digital Gossips.
Entertainment - Digital Gossips originally published at Entertainment - Digital Gossips