Revolutionizing Digital Art with Cloud-Based Pro-Level AI Tools for Creative Professionals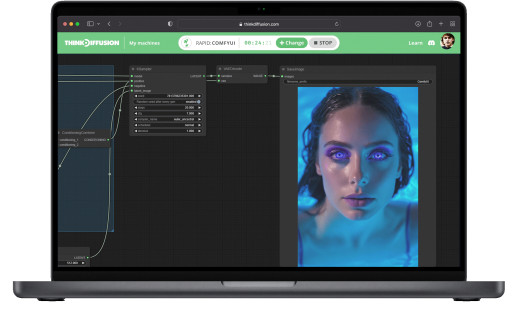 ComfyUI now on Think Diffusion
Revolutionizing Digital Art with Cloud-Based Pro-Level AI Tools for Creative Professionals
HOUSTON, November 12, 2023 (Newswire.com) - Think Diffusion, a pioneer in AI art generation announces the availability of ComfyUI, a revolutionary interface that expands Stable Diffusion's capabilities for advanced workflows. With this offering, Think Diffusion continues to democratize access to the latest technologies from the Open Source AI art ecosystem without the need for expensive hardware or advanced technical skills, making it simpler than ever to create pro-level AI-powered images and animations on any web browser.
Democratizing Art Generation with Advanced Technology
ComfyUI brings a game-changing flowchart/node-based interface that allows users to effortlessly design complex and intricate workflows. This innovative tool is optimized for modularity and flexibility, making it the ultimate solution for fast and repeatable creative processes.
Streamlined Creativity at Your Fingertips
ComfyUI enables users to:
Drag and drop complex, community-created workflows in seconds, using just an output PNG or a JSON file.
Customize and create unique workflows, effortlessly saving them for future use.
Access a growing library of pre-made workflows, perfect for various Stable Diffusion tasks like txt2img, img2img, upscaling, and merging images.
Enhance and animate images using ControlNet to add depth maps, detect outlines and capture character positioning effortlessly
Generate animations and videos with ease using AnimateDiff, tapping into the full potential of AI video creation.
Empowering Users with Scalable Solutions
ComfyUI is more than just an interface; it's a community-driven tool where anyone can contribute and benefit from collective intelligence. Whether you're a hobbyist or a professional artist, the Think Diffusion platform is designed to amplify your creativity with bleeding-edge capabilities without the limitations of prohibitively technical and resource-intensive open source software requirements.
This integration allows Think Diffusion to offer an unparalleled experience, ensuring users can achieve high-quality results, from enhancing images to creating smooth and temporally coherent animations from text or video inputs. ComfyUI offers the comprehensive features that today's digital artists require.
About Think Diffusion
Think Diffusion is a cutting-edge platform hosting pro-level AI art tools, crafted specifically for creative professionals seeking to elevate their work and available on any device with a browser - even a phone. Our mission is to democratize access to the most advanced AI art capabilities, providing artists with a competitive edge in the dynamic visual creative industry. With a suite of tools that includes Automatic1111, ComfyUI, Fooocus, and more, our cloud-based art lab offers a dedicated and personal managed Stable Diffusion workspace for each user, with the ability to launch as many additional machines as needed. At Think Diffusion, we empower creators with the means to push the boundaries of digital art, keeping them at the forefront of their craft.
To get started using ComfyUI in your browser, please visit http://thinkdiffusion.com
Contact Information:
Think Diffusion
[email protected]
Original Source:
Think Diffusion Integrates ComfyUI: Revolutionizing Easy Access to Stable Diffusion With the Breakthrough Interface
The post Think Diffusion Integrates ComfyUI: Revolutionizing Easy Access to Stable Diffusion With the Breakthrough Interface first appeared on Digital Gossips.
Entertainment - Digital Gossips originally published at Entertainment - Digital Gossips