Experience the ultimate Vegas buzz with Voon's THC pouches. Break free from smoking restrictions and embrace Sin City's wild side.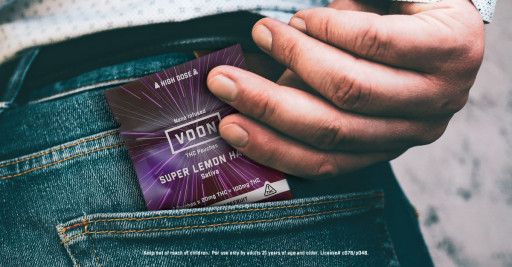 Smokeless, Fast-Acting and Discrete- Introducing 20mg THC Pouches from Voon
Free yourself from all smoking restrictions with Voon's 20mg THC pouches. Fast-Acting, Potent, Vegan and Cost-Effective - these pouches will enhance your Sin City experience to the max.
LAS VEGAS, May 9, 2023 (Newswire.com) - Voon, a leading innovator in pouch-in-mouth products, is excited to announce the launch of their newest product, THC pouches. These pouches provide a new level of freedom to those visiting Sin City by liberating them from the constraints of smoking restrictions on the strip and the fear of judgment. Voon THC pouches provide the perfect way to experience the wild side of Vegas anytime and anywhere.
With 20mg of THC per pouch, Voon users can enjoy a continuous and smooth buzz that allows them to stay on top of every moment of the action. Whether they are taking on the casinos, attending a show, enjoying a festival, or partying the night away, users can stay energized and ready to go with these "pick-me-up" pouches.
One of the greatest advantages of Voon THC pouches is the ability to allow users to stay in the zone. Visitors to Las Vegas can keep the excitement going, whether they are exploring the city or trying their luck at the slot machines. There is no need to find a designated smoking area to maintain that buzz, allowing users to enjoy every moment of Vegas with no fuss. Furthermore, the proprietary technology behind the pouches ensures a quick onset within 5 minutes. Simply wedge the pouch between the upper lip and gum and let it release.
"We are thrilled to introduce our newest product, Voon THC pouches, to the market. These pouches provide users with a simple, convenient and discreet way to enjoy the excitement of Vegas without worrying about smoking restrictions," said Voon Innovations CEO Frank Svandal. "Our slim white pouches provide a seamless and enduring buzz to help visitors experience Sin City to the fullest. With Voon THC pouches, visitors to Las Vegas no longer need to worry about smoking restrictions and truly enjoy their Sin City cannabis journey."
Voon Innovations is a Swedish based company with ample experience in pouch-in-mouth technology. The team of experts behind Voon is committed to providing high-quality cannabis pouch products to consumers. In addition to being a smokeless and odorless cannabis alternative, Voon pouches use only natural ingredients that are sugarless and vegan-friendly. Voon THC pouches are currently available at Planet 13 in 2 strains, with more to be available very soon. Follow Voon THC's Instagram @GoVoon to stay updated.
Voon is launching in the United States in Nevada with "the grow up co-op." A sales and marketing cooperative of conscientious and intentional cannabis brands. For information on expansion and retail opportunities, please contact Tina Ulman or Dani Baranowski at [email protected]
Contact Information:
Tina Ulman
Managing Partner
[email protected]
702-493-1856
Original Source:
Voon Launches New THC Pouches for the Ultimate Vegas Experience
The post Voon Launches New THC Pouches for the Ultimate Vegas Experience first appeared on Digital Gossips.
Entertainment - Digital Gossips originally published at Entertainment - Digital Gossips